Quotes, Pictures & Times from Past Years' Races.
Louie and Effie Atsaves from Chicago were at the race with 27 family members. "This is a very electric atmosphere, well organized, and everyone is so friendly!", according to Mr. Atsaves. The runners in the family ranged from 7 to 70.
Another Family Affair: The David Becker Family from Ann Arbor participated in both the 5k and the Kids' Race.
A note received from a pleased runner:
Thank you to you and the rest of the volunteer crew for the friendly, well-run event. It was my first 5K and my first visit to Glen Arbor, but I hope not the last one either!
Best,
Linda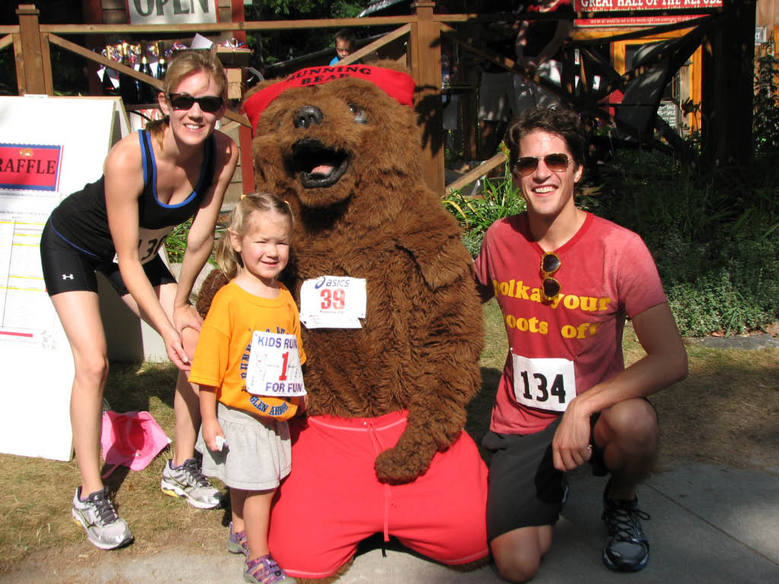 2017
Zack Ripley, who missed the 2016 race not long after the birth of his first child, trimmed 15 seconds from his first place in 2015. "We really appreciate the small-town atmosphere here in Glen Arbor and the race's backing by the community," Ripley said. "It's one of our favorites."
"This race is so special, "said Heidi Heuerman of Columbus, Ohio, who participates in about 15 races a year. "I just love the positive atmosphere."
Thank you to all the people who supported the Running Bear Run on Tuesday. A great time was had by all! The weather was cool and perfect, the food was amazing, and everyone loved running with the bear.
Due to technical difficulties with the timing system, the times for the runners were not correct and will not be posted. The order of the runners was correct and did not affect the first- and second-place prize winners. We are addressing the timing issue, and this will NOT occur again.
With apologies,
Glen Arbor Women's Club