Quotes, Pictures & Times from Past Years' Races.
Louie and Effie Atsaves from Chicago were at the race with 27 family members. "This is a very electric atmosphere, well organized, and everyone is so friendly!", according to Mr. Atsaves. The runners in the family ranged from 7 to 70.
Another Family Affair: The David Becker Family from Ann Arbor participated in both the 5k and the Kids' Race.
A note received from a pleased runner:
Thank you to you and the rest of the volunteer crew for the friendly, well-run event. It was my first 5K and my first visit to Glen Arbor, but I hope not the last for either!
Best,
Linda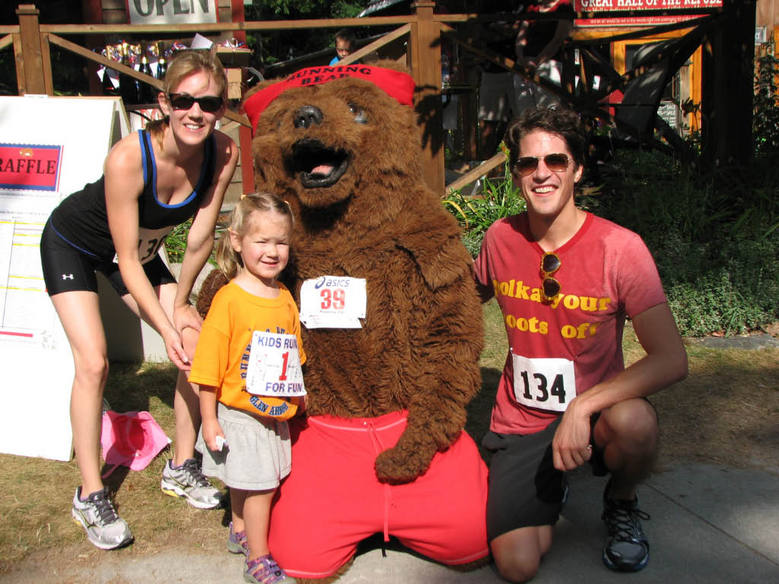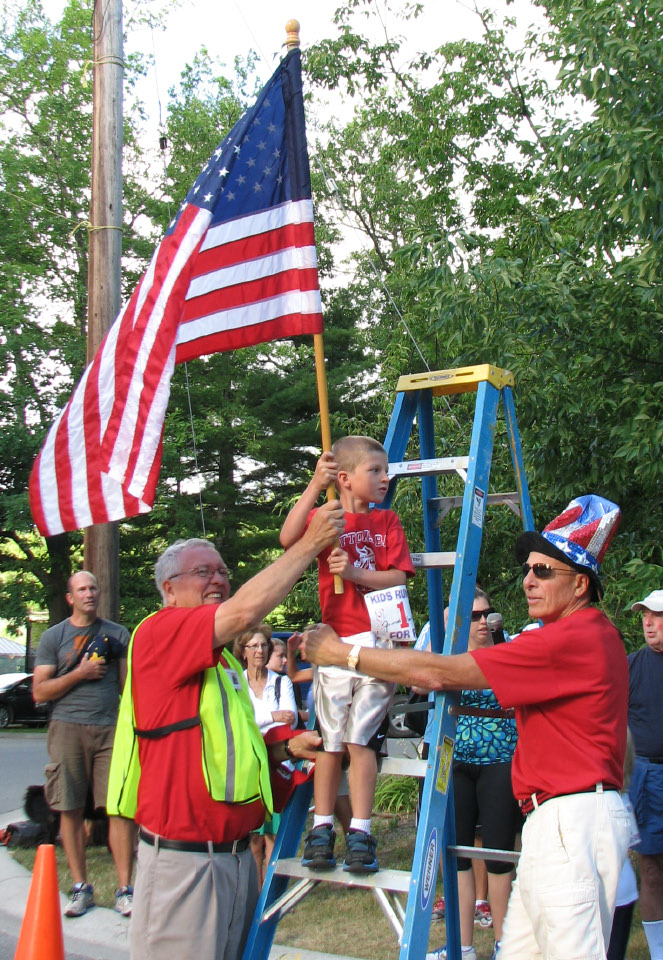 5 K Running Bear Run 2018 Race Results
(Sponsored by the Glen Arbor Women's Club)
Category Male Female

Overall Mathew Yacoub (17:21) Audreu Dehaime (19:29)
Northville, MI Perrysburg, OH

Age 10 First Hawthorn Sutherland (21:51) Regan Feeley (26:00)
and under Glen Arbor, MI Traverse City, MI

Second Eric Stark (22:30) Addison Patrozik (27:37)
Kingsley, MI Beulah, MI
Age 11-14
First Colebrook Sutherland (20:40) Emma Bohney (20:28)
Glen Arbor, MI

Second Jacob Siemsen (23:07) Hailey Lambdin (23:05)
Glen Ellyn, IL Perrysburg, OH
Age 15-19
First Nathan Swords (19:16) Jess Menke (20:43)
Columbus, OH Perrysburg, OH

Second Patrick McCallum (19:19) Emma Francis (21:10)
Lakewood, OH Perrysburg, OH
Age 20-29
First Dan Zawecki (21:16) Jennifer Daily (21:14)
Chicago, IL

Second Justin Sommer (23:42) Katie Zawocki (24:15)
Metfield, MA Chicago, IL
Age 30-39
First Stephen Carr (17:35) Sarah White (20:34)
New York, NY Glen Ellyn, IL

Second Chris Stark (18:12) Lindsay Martin (20:55)
Kingsley, MI Columbus, OH
Age 40-49
First Joe Esper (19:19) Elizabeth Robinson (21:21)
Glen Arbor, MI

Second Doug Brown (19:28) Kelli Marti (22:25)
Williamsburg, MI Elmhurst, IL
Age 50-59
First Jeff Kilrea (19:28) Donna Barker (22:43)
LaGrange Park, IL Upper Arlington, IL

Second Tim Salach (20:30) Debbie Kilrea (22:54)
Alto, MI LaGrange Park, IL
Age 60-69
First Ed Osborne (21:37) Donna Kaysserian (24:33)
Perrysburg, OH Traverse City, MI

Second Duane Amato (22:47) Mimi Ransick (28:22)
Suttons Bay, MI Glen Arbor, MI

Age 70-79
First Richard Naperola (28:06) Barb Michaelson (32:40)
Traverse City, MI Traverse City, MI
Second William Marshall (29:30) Leslie Dejay (43:05)
San Rosa, CA Mt. Pleasant, MI
Age 80+
First Gary Lee (46:08)
Traverse City, MI
Second Marvin Stevenson (47:07)
Rochester Hills, MI

2017
Zack Ripley, who missed the 2016 race not long after the birth of his first child, trimmed 15 seconds from his first place in 2015. "We really appreciate the small-town atmosphere here in Glen Arbor and race's backing by the community," Ripley said. "It's one of our favorites."
"This race is so special, "said Heidi Heuerman of Columbus, Ohio, who participates in about 15 races a year. "I just love the positive atmosphere."
Heuerman captured top honors on the women's side in dramatic fashion, crossing the line in 19:04, just three seconds faster than fellow Ohioan Kerry Lee.